Top Rastakhan's Rumble Decks Week 16 (100+ Deck, Final Expansion Report)
Hey! This is a special Reward with all Decks played this expansion. Coming with the next Report, all Decks you will find on this website)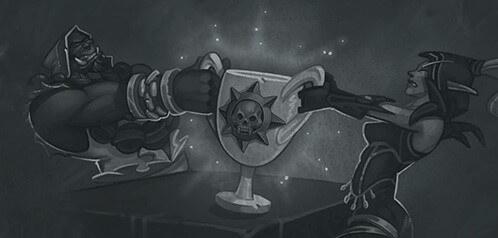 How to use deck codes:
Copy the code

Open Hearthstone Collection

Create a new deck, you will asked "Do you want to create a deck from the clipboard"
Want to see the whole deck? Just click on the first picture on each tweet!
You like my work? If so, it would be nice if you leave a follow on Twitter!
You have played yourself a Deck High Legend, found one or know a Deck Guide? (Top 500 Legend or something special) Submit your deck here (When all cards are published you can also upload Theorycrafts here): Submit Deck (Google forms)
This is not a meta Report! A good deck can be not featured and a bad deck can hit Legend #1!
My Website should be published soon (hopefully before the new Expansion), do you have any wishes? Leave your ideas in the comments!
Standard Decks
Druid
Hunter
Mage
Paladin
Priest
Rogue
Shaman
Warlock
Warrior
---
Wild Decks
Druid
Hunter
Mage
Paladin
Priest
Rogue
Shaman
Warlock
Warrior
---
Posts of the Week:
The post of this week is a little different than the lost ones. It's article by superdataresearch showing that hearthstone lost 52% revenue in the past year. You can find it here: superdataresearch
---
Deck of the Week:
The Deck of the Week i want you present is the new Version of Mecha'thun Druid.
I am not 100% sure who was the first person played this so i feature this one since he good Legend #1 with it.
With the new Combo: [Stampeding Roar] –> [Giant Anaconda] —> [Wrath] —> [Mecha'thun] –> [Naturalize] (or some other) we have the big benefit that we don't need to play that many cards like we needed in the old version.
The old combo was: [Mecha'thun] —> [Innervate] –> [Naturalize]
We can hold 2 more cards without needing [Innervate] to safe. We can get much better cycle turns with [Gadgetzan Auctioneer], so this version is just overall a better version of the old one. With this one you will get a much higher winrate. Also this version has a 50% winrate vs hunter (which a lot of people hate atm) so you could have a lot of fun. If you have any question how to play this deck just comment and i will answer.
The new take on mechathun Druid is really genius. Was watching a streamer play it and the way he explained it made perfect sense. The roar + anaconda basically turns your 30 card deck into a 28 card deck because roar and anaconda are basically mechathun. So you don't have to include clunky stuff like spreading plague just to fill out the rest of your deck. And they also do it for less mana so you can dump more stuff on the mechathun turn.