Hearthstone's newest expansion will be Scholomance Academy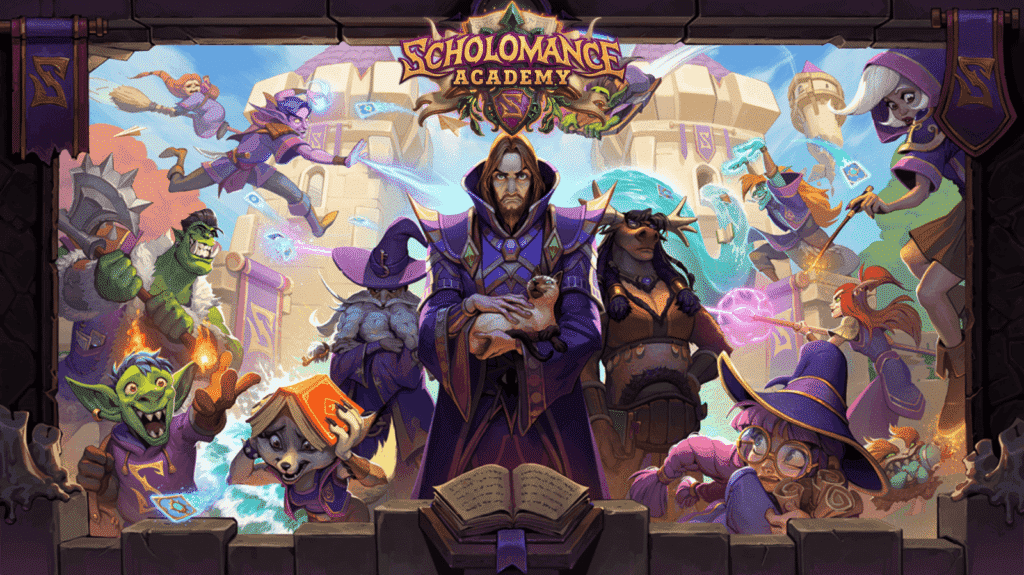 Release Date – August 6, 2020
135 New Cards!
Dual Class Cards – 40 of the cards will be playable in two different classes. Every class is paired with two different classes, for 10 different pairings in total.

Including 10 signature Legendary professor minions—one for each of the unique class pairings.
The 10 class combinations are:

Druid/Hunter
Hunter/Demon Hunter
Demon Hunter/Warlock
Warlock/Priest
Priest/Paladin
Paladin/Warrior
Warrior/Rogue
Rogue/Mage
Mage/Shaman
Shaman/Druid

New Mechanic – Spellburst – Spellburst is a new minion keyword – it triggers after you play the spell, but works only once.
Study Spells – A new type of spell, letting players Discover a card, as well as reduce the mana cost of the next card of that type they play.
Two Pre-Purchase Tiers!

$79.99 USD, which comes with 85 Scholomance Academy card packs—5 of which are Golden Card Packs (containing all Golden Scholomance Academy cards)—plus one random Scholomance Academy Golden Legendary card; the Kel'Thuzad Mage Hero; the Kel'Thuzad card back; and a Tavern Pass, unlocking time-limited perks for Hearthstone Battlegrounds and granting four Arena Tickets, which are good for a free run in the game's Arena mode.
$49.99 USD, which includes 55 Scholomance Academy packs, one random Scholomance Academy Golden Legendary Card, and the Kel'Thuzad card back.

Starting today July 14, players can log in to receive two free copies of the epic neutral minion card Transfer Student.
Year of the Phoenix Phase 2
Scholomance Academy marks the beginning of the second phase of the Year of the Phoenix. Between now and the next expansion, you can expect several major updates from us, including balance patches, new Battlegrounds Heroes and minions, a seasonal event, and what was previously spell-locked—a new solo experience and Battlegrounds feature! Let's not forget—a new game mode is on its way as well! We'll have more details to share on these exciting developments in the months to come.   
Scholomance Academy Pre-Purchase Bundle ($49.99)
55 Scholomance Academy Card Packs
Random Golden Legendary from Scholomance Academy
Kel'Thuzad Card Back
Scholomance Academy Mega Bundle ($79.99)
80 Scholomance Academy Card Packs
5 Golden Scholomance Academy Card Packs
Random Golden Legendary from Scholomance Academy
Kel'Thuzad Mage Cosmetic Hero
Kel'Thuzad Card Back
4x Arena Ticket
Tavern Pass
To always be up to date with new Card Reveals visit this Page daily from June 22nd – 29th.
For the official Schedule visit PlayHearthstone.com