Mercenaries Beast Build by elm0 (12029 MMR)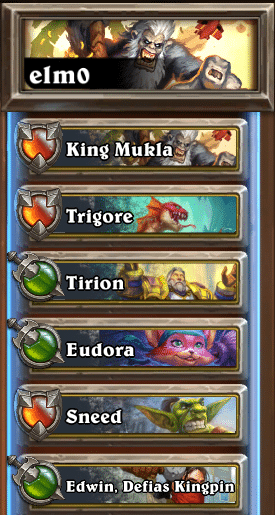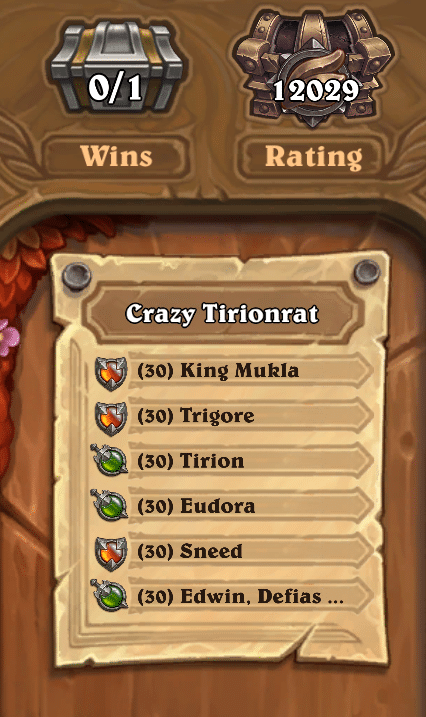 Opener:
King Mukla (2) – Trigore (2) – Tirion (2)
Bench:
Eudora (2) – Sneed (3) – Edwin (1)
I post this after watching the latest GrumpiHS Stream to proofe, that there acutally IS a meta right now beside Kazagore and Frost-Gore Comps.
Welcome to the "No-Blue-Comp".
Strat is that you try to get as much as possible killed with your Opener before you get them killed at the same time. Key is to get your bench on board at the same time. With Tirion dead, you have a beefy pirate-board now. With Edwins speed, they outspeed allmost everything. Sneed deals with the green Metabackliners (Sinestra and Syvanas) and neighbours with his 1st Skill, Eudoras 1st Skill even has 0 Speed. In the Lategame you try to scale Edwin even further with comboing his 2nd skill. IF Edwin is faster than his target, you also just can delete it with his 1st skill. Dont forget, that his 3rd Skill can shoot to 3 Times and heal him on Deathblow.
This Deck is not my own creation. I faced crazyministr on Ladder and was surprised about the No-Blue-Deck. I tried it on my own and yeah, the buffed Pirate-Backline is realy strong.