Hearthstone Battlegrounds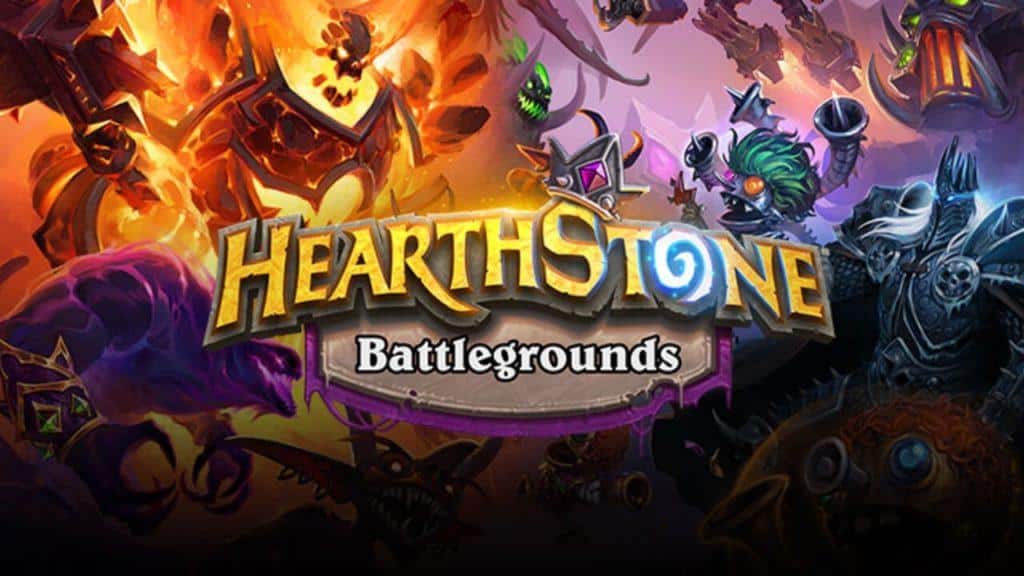 WHAT IS HEARTHSTONE: BATTLEGROUNDS?
Hearthstone: Battlegrounds is a new way to play Hearthstone—a fast-paced, easy-to-learn eight-player auto-battler. As a Hero, you'll recruit minions from various tribes, strategize and set your battle formations, and watch as fights unfold until the last Boss standing wins!
BATTLE AS 24 UNIQUE HEROES
At the heart of the Hearthstone: Battlegrounds are the unique Heroes—24 characters drawn from across Hearthstone history, including Ragnaros the Firelord, Millificent Manastorm, and The Lich King. You'll choose one of two Heroes to play as at the start of each game, but choose wisely! Each one has a different power to use to your advantage.
HOW DOES IT WORK?
Each round starts with a Recruit phase, where you'll hire minions and then position them strategically before the ensuing Combat phase. If any of your minions survive the conflict, you've won the round and your minions will buff your attack value before you attack the opponent and deal damage.
Your climb to the top begins by spending gold to hire minions from Bartender Bob at the Tavern. You start with three gold coins to spend on a Tier 1 minion drafted from a pool shared by all eight players. You'll receive an additional coin each round until your purse overflows at 10 gold coins per round.
There's a lot of strategy at play in the Recruit phase, as you'll have to manage your gold economy and decide when to hire minions, when to sell them off to recoup a coin, and when to pay a coin to refresh the lineup. You can freeze the board for free and lock it in for the next round, and you can also upgrade the Tavern to gain access to stronger minions.
Your Tavern Tier has a big impact on the game—it increases the amount of damage you deal when you win a round, raises the number of minions you choose from in the Recruit phase, and gives you access to more powerful minions. Tier 6 minions include some of the most powerful cards in the game. The cost of upgrading the Tavern is reduced by one each round, but don't wait too long, or your opponents may pull too far ahead when they start recruiting more powerful minions.
Mastering the Recruit phase is key to victory in Battlegrounds. Forming a Triple—by recruiting three of the same minions—combines them into a more powerful Golden upgraded minion as well as the opportunity to Discover a free minion. Minions with Battlecry effects apply their effect during the Recruit phase, so you'll need to decide whether to sell them off immediately to make room for stronger units—or keep them around to make a Triple.
The Auto Combat phase can be unpredictable, but skilled players will find ways to take advantage of tribal synergies, well-positioned Deathrattles, and their unique Boss power to claim victory.
HOW DO I GET IN?
A demo version of Hearthstone: Battlegrounds is playable on the BlizzCon show floor and will be a free game mode available to all Hearthstone players when it enters Open Beta on Tuesday, November 12. Players who acquire Descent of Dragons card packs, including free packs and those purchased using in-game gold or real money, will receive cool Battlegrounds bonuses. At 10 packs, players unlock comprehensive stat-tracking in Hearthstone: Battlegrounds (slated for release following beta testing); at 20 they can choose from three different Bosses instead of two at the start of each match; and at 30, players unlock the ability to taunt or playfully communicate with their opponents using a visual emote system.
There is no Collection required to play!
An Early Access period will be available from November 5–11 for everyone who attended BlizzCon, purchased the BlizzCon Virtual Ticket, or pre-purchased either of the Descent of Dragons bundles.
---
Maybe you also like: